FREQUENTLY ASKED QUESTIONS
It's our goal to make sure you're completely happy with your order. If your order isn't just the way you like it, we'll make things right.
If you are not 100% happy, you can:
Exchange your item for a new size/style
Return for store credit
Return for a full product refund
So long as:
The return for a full product refund is requested by clicking here within 21 days of the date your order was shipped and is also delivered to our returns warehouse within 21 days of the date you received your package. Any returns received back to our warehouse, later than 21 days after the date you received your package, will only be eligible for store credit or an exchange.
The exchange or return for store credit is requested by clicking here within 21 days of the date your order was shipped and is also delivered to our returns warehouse within 21 days of the date you received your package.

Items are unworn and are returned to us in the state you received them
NOTE: We'll do our best to make sure you have a positive experience. We're open to feedback but if you're unnecessarily rude to our team, we'll happily deduct a little handling fee from your refund and go grab a beer. Please also note that we have the right to refuse any return if we think you are abusing our policies.
We are happy to assist with international returns and exchanges within 45 days of when the order is shipped, but at this time we do not provide labels.
If you would like to start an international return or exchange, please complete your return / exchange request by clicking here so we know what you will be sending back. Then, create a standard shipping label, email your tracking information to support@kennyflowers.com, and ship the item to::

Kenny Flowers Returns
1940 S. Quaker Ridge Place
Ontario, CA 91761
United States

If you are doing an exchange, we will reimburse you for your return shipping label. If you are doing a return, you will be fully responsible for the cost of shipping the item(s) back to us.

We will get your return / exchange squared away after we have received the item(s) and confirmed everything is still in a brand new condition. Please allow 8-10 business days after delivery at our warehouse.

Please note, we do not accept returns on worn or washed items, sale items, or group orders.

If you need any clarification, please email us at support@kennyflowers.com.
We cannot accept any items that have been worn or washed.
Swimwear: We cannot accept any swimwear that has been worn or washed. If any hygienic liners or hang tags have been removed from the swimsuit or it has been worn, we will not accept the item for return / exchange. Please initially try on all swimwear with underwear.
Sale Items: All items discounted and/or marked final sale on the product page are not available for return, exchange, or refund.
Masks: All face masks are not eligible for return, exchange, or refund due to sanitation and charitable aspects.
Headscarf: All headscarves are not eligible for return, exchange, or refund.
Holiday Time: All non-mask, non-sale, unworn purchases made 11/1 through 12/15 are eligible for exchange/return up until January 15.
Group Orders: All group orders are a final sale and not available for return/refund. If a size or two doesn't work out, we're of course happy to get items swapped out appropriately so no one misses out.
The speed of your exchange depends on how fast you drop your package in the mail. Your exchange order will begin processing as soon as the provided return label has been scanned by USPS and is marked in-transit. If you need your new item right away, please go ahead and order it on the site and we will give you a full return credit when we receive your exchanged item back. If that is the way you want to go, just let us know by emailing support@kennyflowers.com!
We'll reimburse your original method of payment once we have received the product and confirmed there are no cranberry vodka spills, cigar burns, suntan lotion or lipstick kisses on it. Please allow 5-10 business days after delivery at our warehouse. Thanks for understanding, as we are a small business and doing our best to make everyone happy. If you are returning for store credit, we'll send through a gift card code as soon as the provided return label has been scanned by USPS and is marked in-transit.
Please click here to get started! Complete your request in our returns portal within 21 days of your item being shipped for a refund or within 21 days of your item being shipped for an exchange and/or store credit and we will get you set up with a prepaid return label. Once we send that label, we'd appreciate it if you ship your items back to us within 7 days.
Shirt size charts are available on our product page descriptions.
Shirts are cut true to size and are meant to fit better than your dad's Hawaiian. Our size chart should help you find your size. If you're still torn, shoot us a message or read more below. We want you looking and feeling great out there.
See Shirt Size Chart
We have two different fits for however you want to get down.
Regulaxed - None of that boxy shape, wizard sleeve play where you can't see or lick your elbow. These shirts are better fitting than your typical Hawaiian shirt and a little more relaxed than your every-day shirt. We designed them to be accommodating in the chest, shoulders and waist while still maintaining a modern silhouette. If you're a bit stronger in any dimension, we recommend sizing up for cool, casual comfort.
Slim - Roll up your sleeves and rock this nice fit in the city, on the beach, at a brunch or out at night. Not too slim, not too regular. This option is more structured in the chest/shoulders with a bit more taper in the waist.
Most of our shirts are made with a soft, breathable fabric called rayon. Silky and strong, they feel so good on; you can make some serious moves in them. You can dry clean these bad boys for a consistently fresh, crisp look. Or, as explained on the tags – play it cool, hand wash cold, hang to dry, no bleach just beach. After you hand wash and hang to dry, shake it out gently (referring to the shirt), to get the wrinkles out. Doing more, like putting it in a washing machine with jeans and towels might be too aggressive for this smooth fabric so we advise against it. While throwing these shirts in a dryer is as easy as getting a hangover, we once again advise against it. Would you want to tumble around in a hot dryer after being out having the time of your life? Nah, you probably just want to hang, regroup and go at it again. Here is all of that listed in bullet points so it's easy to read and we hope it sticks:
Hand wash cold or dry clean
If hand washing, hang to dry
No bleach, just beach
Don't put them in the dryer
If choosing not to listen to us and throwing it in the machine, put on gentle cycle and with other soft materials (not jeans or towels, ya dig?)
NOTE: You may also dry clean these bad boys for a consistently fresh, crisp look.
We also have cotton shirts. As explained on their tags – play it cool, machine wash cold, hang to dry. When it comes to cotton, you're basically wearing nature. Cotton is a natural fabric and a relatively easy one to maintain. Like your favorite DJ spins groovy tunes at a pool party, you can spin your cotton garment in a washing machine. After machine-washing it, you have a couple options. You can choose to either machine dry or hang dry your button-buddy. We all love the heat, but keep in mind that high temperatures in the dryer could put cotton garments at risk of shrinkage. Yes I said the "s" word – sorry, ladies. You might also get some wrinkles (classic cotton), but nothing a little ironing can't handle.
If you are experiencing a little shrinkage, we recommend ironing over the shirt to loosen things up a bit.
Of course. Have you seen the pics? As an inevitable side effect of creating a bloomin' remix of the guys' classic Hawaiian shirt, girls look great in them too.
Depending on how she likes her shirts to fit, we'd recommend sizing her shirts similarly to how she'd expect one of your hoodies or t-shirts to fit. But remember guys, just like with those hoodies and college tees, be careful letting her wear yours. You may never see it again.

Simple as putting on flip flops. You end up dartying (act of partying during the day) longer than you thought, so long that it actually gets dark outside and you realize you don't want to be the guy wearing sunglasses at night. Nor do you want them to break when you're breaking out your best/worst moves. Or you just want to look deeply into a lovely lady's eyes for a second. Whatever the scenario, keep your sunglasses in the front pocket loop and have even less to worry about. The specially designed loop inside the front pocket, only available on Kenny Flowers shirts, will keep those sunglasses snug so they don't fall out of the pocket.
These aren't your everyday plastic button, these are fine, finished coconuttons. They're all-natural, non-GMO and probably gluten-free too. The lighter ones are from baby coconuts. Treat them nicely. We attach an extra to the shirt in case one doesn't survive an adventure of yours.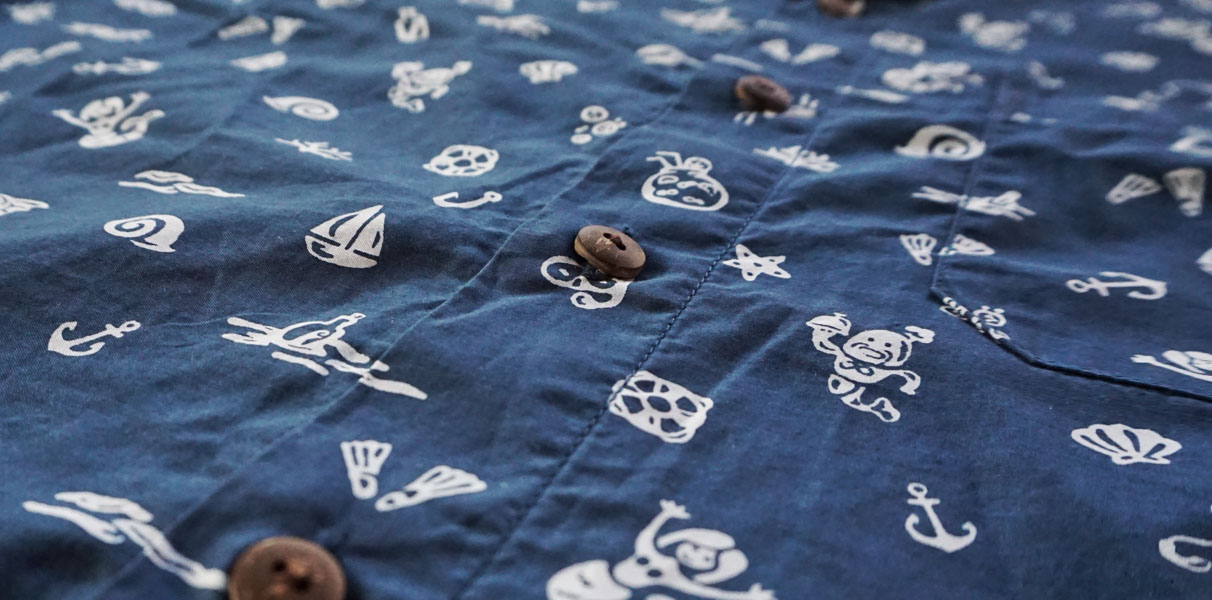 We first explore the whole island of Bali to find the coolest, highest quality fabrics out there and work on fun designs with young, talented local artisans. Then, the shirts themselves are made fresh in a beautiful little factory surrounded by Bali rice fields. Working conditions are good here, with lots of time taken off to participate in village ceremonies and hang with their families.
We hope you feel great knowing that the KF shirts you rock were made with the best of energy and a strong work/life balance by everyone involved.
Our mid-length swim trunks are meant to fit and feel better than anything you've ever worn to a swim-up bar.
See Swim Trunk Size Chart
This size chart should help you find the right size so you can comfortably party underwater. If you find yourself on the fence between sizes, just order the smaller size for a slightly shorter, tighter fit and the larger size for a slightly longer, looser fit.
We believe in showing a little thigh while still looking classy at the pool and around town. Smalls & Mediums have a 6 inch inseam. Larges and Extra-Larges have a 6.5 inch inseam.
Pretty simple stuff here - we recommend washing normal (machine wash cold) and then hanging these high-performers to dry.
They love the sun as much as you do, so if you're not wearing them, and a balcony permits, we recommend drying them out in the warmth. Just make sure no one at your resort jacks them.
All suits ordered before Noon Eastern Time will arrive within 3-5 business days on standard shipping, or you can opt for 2-day shipping if you need it in time for a special occasion. If your desired suit is pre-order, please understand we're working hard to deliver by the dates mentioned on the product page and to get you splashing around in lux comfort as soon as possible .
We want your new Watercolors to last you for endless pool parties, beach vacays, and days in the sun. So here are some quick and easy tips to keep your suit in prime condition, for every wear (and everywhere) around the world.
Wash Your Suit ASAP After Each Wear – Even if you don't go in the water, sand, sunscreen and your body's natural oils can still wear down a swimsuit. You can easily extend the life of your beautiful one piece by making sure to (gently) wash your suit after every wear!
Hand Wash & Be Gentle – Always hand wash your suit! Our favorite bikini washing formula is combining cold water + just a touch of gentle laundry detergent. Let it soak for 5-10 minutes then rinse it out gently. Lay flat to dry.
No Bleach, Just Beach – Even on white swimwear, stay away from bleach. For spot cleaning, a little bit of Shout will do the trick!
Don't Dry Your Watercolors in Direct Sunlight – If you're drying your swimsuits outside, hang or lay them in the shade. Drying in the sun too long can cause discoloring and fading!
Stay Away from Heat – Never, ever, ever iron or throw your suits in the dryer! Just like sunlight, too much heat can cause fading or terrible damage to the fabric. Always opt for hang drying, or ideally lying flat.
We're as excited as you to get you your new KF gear. You can expect a smooth USPS delivery within 3-7 business days and some great gear for your next adventure. If you need your order in a hurry, please select our expedited option during checkout and we'll take care of it from there.
Here is a little more info on when you can expect your order based on your shipping choice within the United States:
Free shipping on orders over $125 – arrives 3-7 business days after your order is shipped
3-7 Day First Class Shipping – arrives 3-7 business days after your order is shipped
Arrives in 3 Business Days – orders placed before Noon EST arrive in 3 business days
2 Day Express

– orders placed before Noon EST arrive in 2 business days (Hawaii and Alaska may take 3 business days)
Please allow 1 business day for processing during the week, or expect your order to ship on Monday if you order on the weekend. We aim to ship your order out the same day, but we are a small business and can't always get to every order that day. Orders placed before Noon Eastern Time will get priority at the warehouse.
You will be emailed a tracking number after your order has been shipped.
Yes! We offer overnight shipping for orders shipping to the continental U.S. only. Overnight shipping is available for orders placed before noon EST between Monday & Friday. Orders placed on Friday qualify for Saturday delivery.
That's an amazing idea – and good news, we are here to help get you and your group geared up for bachelor parties, bachelorette parties, groomsmen gifts, bridal party gifts, reunions, group trips, family vacations and office Fridays alike. Whether you want the whole crew in matching shirts, kimonos, sarongs, or maybe even something custom, let's make it happen. We are also happy to help with a mix and match order if matching the whole crew isn't your vibe.
If you pretty much know what you want to order, use code GARDENPARTY at checkout, to get a special 20% off your 8+ item order today.
In fact, you can use code GARDENPARTY at checkout, to get a special 20% off your 8+ shirt order today.
If you need help choosing items and coordinating orders, please shoot us an email at party@kennyflowers.com and we'll be your personal party outfit concierge.

Sign up for an email on the product page for when the item comes back in stock! If you don't see the option to sign up for an email, it was probably limited edition. Each product is made carefully in small batches. Our factories in Bali and Colombia are hard at work reproducing current styles and creating new styles. If you still have questions, or REALLY need an item, shoot us an email at support@kennyflowers.com and we will help you as best we can.
We love the idea of you rocking KF overseas. We offer international shipping so you can live your dream, wherever you are. Please note that any customs, duties, taxes, fees charged by foreign governments are your responsibility.